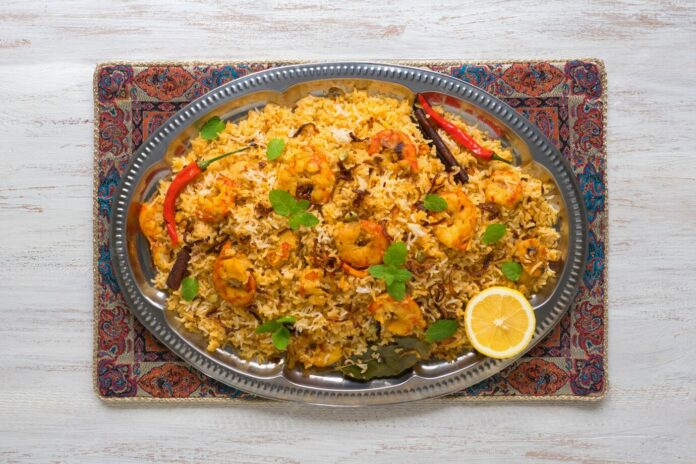 Prepare time: 2 Hrs
Cook: 45 min
Ready in: 2 hr 45 min
Ingredients
Oil half cup

2 Onions , finely sliced

2 Bay leaves

1 Cinnamon Stick

4 Cloves

3 Cardamom

1 Star anis

Basmati rice half kg soaked for half hour in water

Prawns , cleaned and deveined 800gm

2 tsp Red Chilli powder

1/2 tbsp Turmeric powder

1 Lemon

1/2 cup Yogurt

4 tbsp Mint Leaves, chopped

Salt 2 tsp

Fenugreek leaves dried 2 tbs

Ginger-garlic paste 3 tsp

Yellow food colour half tsp
Directions
Now add ginger-garlic paste and saute. Add rest of the spices , tomato, yoghurt and cook until gravy thickens and tomatoes softens.

In a saucepan boil 4 glass of water and add half of the turmeric, salt , Fenugreek leaves and cleaned prawns boil for 7 minutes to get rid of bad smell.

Heat oil in a pan and add sliced onions. Fry until golden brown.
As the oil separates add the boiled prawns and cook for 10 mins on medium heat . Boil rice and add salt. Now mix gently the boiled rice and gravy. Cover and cook for 15 min on very low flame. Add food colour on top.
Garnish with mint leaves and fried onions.

Directions for Soda Raita
Hung curd 2 cup

Salt 1tsp

Cinnamon powder ¼ tsp

Cumin powder ¼ tsp

Chaat masala 1tsp

SODA preferably 7up or sprite 1cup
---
Disclaimer: All details published and represented above is part of the submissions by the author. aircooks does not take any responsibility for the information published and the correctness of the same. The views expressed in the content belong to the content creators and are not the organisations, its affiliates, or its employees. The author and aircooks disclaim liability for any damage, mishap, or injury that may occur from engaging in any activities or ideas from this website. Please write to privacy@aircooks.com for any further discussions.