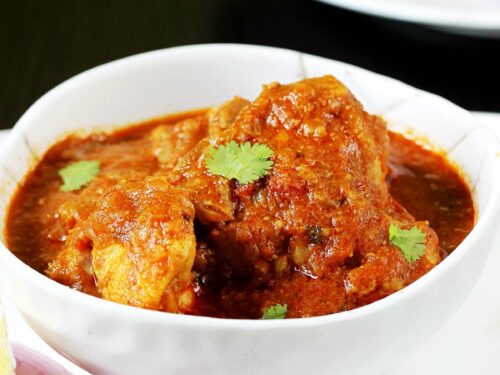 Ingredients
350 gm chicken

1 tsp poppy seeds

4 finely chopped onion

2 tsp chopped coriander leaves

1 tsp chilli powder

1 teaspoon garlic paste

1 teaspoon garam masala powder

1 teaspoon sesame seeds

1/4 teaspoon powdered turmeric

2 small chopped tomato

Salt to taste

1 teaspoon ginger paste

3 teaspoon grated coconut preferably fresh

3 teaspoon vegetable oil
Marination the Chicken Pieces
Now, mix 1 1/2 teaspoon of ginger and garlic paste along with turmeric powder and salt in a large bowl. Now add the chicken pieces and rub well until the pieces are evenly coated. Keep aside for about 45 to 60 minutes so that the chicken pieces are well-marinated.

Dry roast on a pan poppy seeds, sesame seeds & coconut for 5 mins on slow heat and keep aside.

Finely chop the onions and fry in little oil until they turn golden brown. Remove from the flame, and mix the onions with roasted coconut, sesame seeds and poppy seeds. Grind into a fine paste.

Heat oil in a heavy-bottomed pan. Add paste then add the red chilli powder, tomatoes and cook for 5 minutes.

Add the marinated chicken pieces in the pan with paste and cook. Add salt and some water ,bring it to a boil.

Add the garam masala powder, coriander leaves and cover the pan with a lid. Reduce the flame and cook for about 15 to 25 minutes or until the chicken is fully cooked.

Garnish with Coriander leaves.
---
Disclaimer: All details published and represented above is part of the submissions by the author. aircooks does not take any responsibility for the information published and the correctness of the same. The views expressed in the content belong to the content creators and are not the organisations, its affiliates, or its employees. The author and aircooks disclaim liability for any damage, mishap, or injury that may occur from engaging in any activities or ideas from this website. Please write to privacy@aircooks.com for any further discussions.