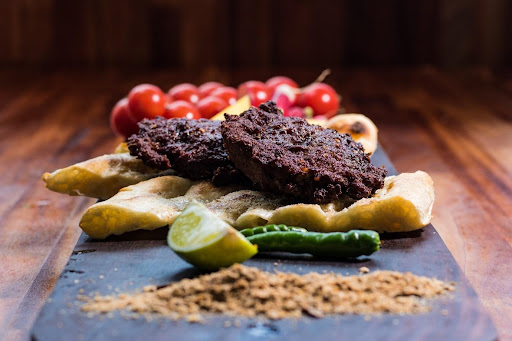 Prepare time: 45 Mins
Serves: 2 – 3 Person
As seen by its name mutthi kebab is a tempting innovation in conventional mutton kebabs.  This outstanding Pakistani recipe is loved by foodies because of its flavoursome, juicy and succulent taste. Prepared in the shape of a fist, these kebabs are named by their shape.
Ingredients
½ kg Mutton mince

1 onion Medium sized

1 teaspoon All spice powder

2 tablespoon

1 teaspoon red chili powder

½ teaspoon nutmeg powder

½ teaspoon mace powder

1 teaspoon cumin seeds roasted and crushed

1 teaspoon salt

1/2 teaspoon meat tenderizer

2 tablespoon coriander leaves chopped

2-3 green chilies chopped

Ginger 1 small price

Garlic 4 to 5 cloves

2 teaspoon Cumin seeds roasted and crushed

½ teaspoon Turmeric powder

Coal for smoke (optional)

Cooking oil for frying
Directions For Mutthi Kebab
Add all the green ingredients in a chopper and chopped well.

Now add all the spices and mutton mince. Again chop well until the mixture becomes smooth. No lumps should be formed.

Grease your hands with oil and make oval shaped kebabs of same size. Gently press with your fist to make fist impressions.

Heat oil in a pan and add kebabs, cook on medium flame from each side until rich golden brown colour appears.

You can add smoke flavours according to your choice in the end

.
Serve with green chutney and onions.
---
Disclaimer: All details published and represented above is part of the submissions by the author. aircooks does not take any responsibility for the information published and the correctness of the same. The views expressed in the content belong to the content creators and are not the organisations, its affiliates, or its employees. The author and aircooks disclaim liability for any damage, mishap, or injury that may occur from engaging in any activities or ideas from this website. Please write to privacy@aircooks.com for any further discussions.