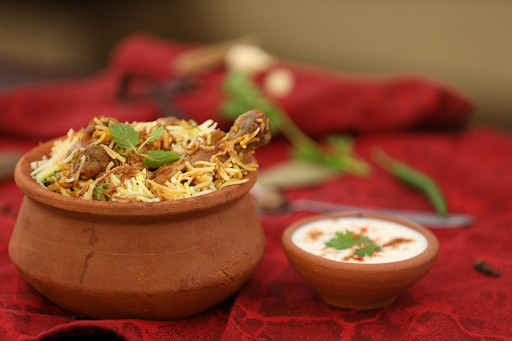 Prepare time
: 1 Hour 45 Min
Sindhi biryani is a traditional rice recipe originated from the province of Sindh in Pakistan. The bursting flavours and aroma of this typical biryani makes it worth trying for every biryani lover.
Biryani
Ingredients
Lamb mix boti 1 kg

Onions sliced 2 medium sized

Tomato sliced 3 medium

Yogurt 1 cup

Ginger garlic paste 2 tbsp

Cumin seeds 2 tsp

Coriander powder 2 tbsp

Nutmeg powder half tsp

Potatoes cut in cubes 2 medium

Lemon slices 2 tbsp

Food colour yellow 1 tsp mixed in water

Green coriander leaves 3 tbsp

Green chilli 5 to 7

Fennel seeds 2 tsp

All spice powder 2 tbsp

Black pepper whole 1 tbsp

Green cardamom 4 to 5

Black cardamom 2 to 3

Rice basmati 1 kg

Dried plums 8 to 10

Handful of chopped mint leaves

Salt 2 teaspoon

Cooking oil 1 cup

4 glass of water
Directions For Rice Preparation
1 Boil water in a pan and add salt and food colour.
2Boil potatoes in this water to give it a beautiful yellow colour.
3To prepare the biryani gravy first Heat oil in a pan and add sliced onions. Now fry until the onions turn golden brown and crispy.
4
Add ginger garlic paste, mutton, tomato yogurt and all the spices to give it a bursting flavour.
5Now our lamb needs a little while to cook completely, so add water cover and let it cook for 45 minutes.
6Dry the excess moisture and cook until oil separates and gravy becomes lusciously thick.
7Boil rice in a wide pan, adding salt whole spice and mint leaves.
8Now begins the complicated yet important part of layering the gravy and rice.
9In a pot layer the gravy and rice one by one and in between add sliced tomatoes, boiled potatoes, dried plums, green chillies, sliced lemon and mint leaves.
10Cover and cook on very low flame for 15 minutes.
Mouth-watering sindhi biryani is ready to eat but don't forget to prepare the perfect combo of sindhi biryani with pudina raita.
Here's the quick recipe of pudina raita.
Podina Raita
Ingredients
Yogurt 250 gm

Salt half tsp

Green chilli 2 pcs

Cumin seeds half tsp

Mint leaves Handful bunch
Directions For Podina Raita
1Grind Green chilli, mint leaves and Cumin seeds with a little water.
Add this mixture in a bowl, whisk along with salt and Yogurt.
---
Disclaimer: All details published and represented above is part of the submissions by the author. aircooks does not take any responsibility for the information published and the correctness of the same. The views expressed in the content belong to the content creators and are not the organisations, its affiliates, or its employees. The author and aircooks disclaim liability for any damage, mishap, or injury that may occur from engaging in any activities or ideas from this website. Please write to [email protected] for any further discussions.