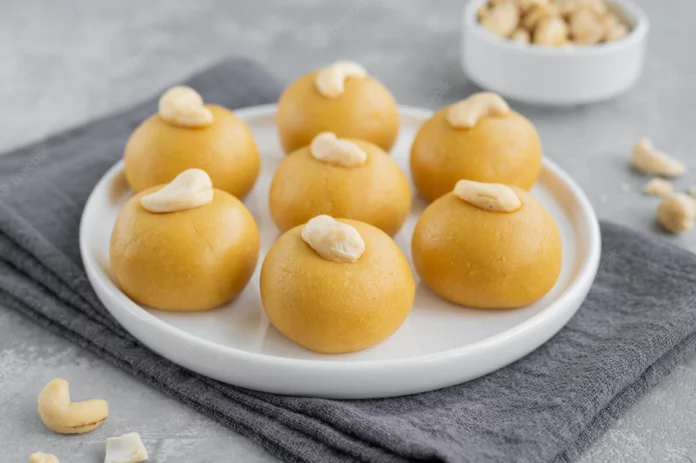 Cook: 25 mins
Serves: 8 – 10 Peieces
Ingredients
For Besan Ladoo
2 cups besan (gram flour) – 200 grams

½ cup Ghee

(clarified butter) – 125 grams, add more ghee, if required

1 cup powdered sugar or boora Sugar
For Flavour and Garnishing
1 teaspoon cardamom powder or 5 to 6 green cardamoms, powdered in a mortar-pestle

10 to 12 cashews
Directions
Dry roast the besan in a heavy kadai/wok or pan on low to medium-low heat for about 10 to 12 minutes.

Keep on stirring continuously right from the beginning. So that the besan is not burned and cooks evenly.

After 12 minutes and the roasting aroma is pronounced , add the ghee.

Mix very well and continue roasting the besan for some more 12 to 15 minutes stirring non-stop.

You will see that the mixture will start releasing ghee and will give a nice fragrant nutty aroma. Some ghee will float on top and you will see lava kind of consistency where the ghee is floating.

The mixture will also loose sides of the pan and become one. These are the signs that the besan is fully cooked. Once you see these signs, you can move on to the next step.

Remove the pan from the stove-top and place it on your kitchen countertop. Add powdered sugar.

Begin to mix with all the strength from your hands. You have to mix this part vigorously so that the powdered sugar melts in the roasted besan and ghee mixture and no lumps are formed.

Add the powdered cardamom, raisins and cashews. Mix again.

Once you have mixed the ladoo mixture well then let it become lukewarm or cool at room temperature.

When cooled, make small or medium-sized besan ladoo and store them in an airtight steel container. If you are not able to shape into balls then freeze the mixture for 5 minutes or refrigerate for 20 minutes. Depending on the quality and consistency

Garnished with Whole Cashew

.
---
Disclaimer: All details published and represented above is part of the submissions by the author. aircooks does not take any responsibility for the information published and the correctness of the same. The views expressed in the content belong to the content creators and are not the organisations, its affiliates, or its employees. The author and aircooks disclaim liability for any damage, mishap, or injury that may occur from engaging in any activities or ideas from this website. Please write to privacy@aircooks.com for any further discussions.