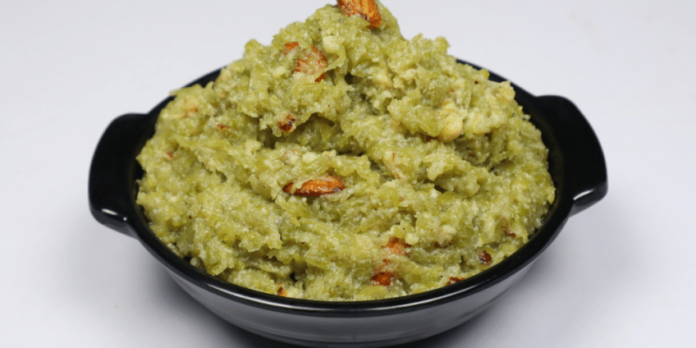 Cook: 45 mins
Serves: 4 – 5 Persons
Ingredients
For Dudhi Halwa
4 tablespoons Ghee

2 cups tightly packed grated lauki or 300 grams lauki (bottle gourd or opo squash or dudhi)

2 cups whole milk – milk can be pasteurized or boiled before and can be used at room temperature or chilled

7 to 8 tablespoons sugar or add as required
For Flavour and Garnishing
5 to 6 green cardamoms – powdered or crushed or ½ to 1 teaspoon cardamom powder

3 to 4 tablespoons chopped nuts – almonds, cashews or pistachios

1 tablespoons raisins – optional
Directions
F

irstly rinse, peel and grate the lauki. Before grating taste the lauki. If it tastes sour or bitter then discard and do not cook it.

You will need 2 cups tightly packed grated lauki.

Heat ghee in a heavy pan or kadai on medium-low to medium flame. Use a large kadai so that milk does not spill outside.

Add the grated lauki. Mix grated lauki very well with the ghee.

On a low to medium-low flame begin to saute the lauki. Stir often when sauteing lauki.

Saute lauki till the moisture dries. Then add whole milk and mix very well.

Continue to cook on a low to medium-low flame till the milk comes to a boil. In between do stir at times.

The milk will start boiling. At this step be attentive and keep on stirring, so that the milk does not spill from the pan.

Stirring often continue to cook till ¾ or 75% of the milk has reduced and absorbed.

Add sugar and chopped nuts. Mix very well. You can even add 2 to 3 teaspoons of rose water or kewra water (pandanus water) if you want at this step.

Stirring often cook till the halwa mixture starts coming together and thickens.

The halwa will gradually thicken and you will see some ghee being released from the sides. There should not be any liquid in the dudhi halwa.

Then switch off the heat and add golden raisins. Adding raisins is optional. Mix very well.

Garnish with some chopped nuts and serve lauki halwa hot or warm. Refrigerate remaining halwa. It stays good for a couple of days in the refrigerator.
---
Disclaimer: All details published and represented above is part of the submissions by the author. aircooks does not take any responsibility for the information published and the correctness of the same. The views expressed in the content belong to the content creators and are not the organisations, its affiliates, or its employees. The author and aircooks disclaim liability for any damage, mishap, or injury that may occur from engaging in any activities or ideas from this website. Please write to privacy@aircooks.com for any further discussions.