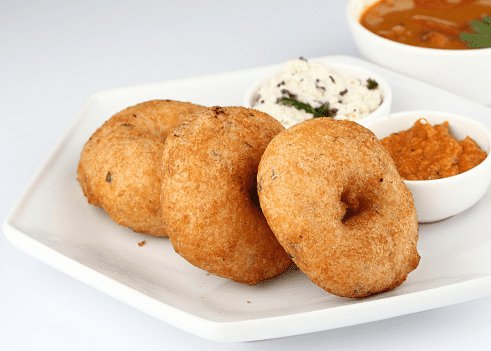 Cook: 25 mins
Serves: 4 Persons
Ingredients
2 cup soaked urad dal

2 teaspoon peppercorns

2 cup refined oil

3 cloves garlic

1 dashes asafoetida

1/2 cup finely chopped onion

1 handful curry leaves

1 teaspoon ginger

salt as required

water as required
Directions For Making Medu Vada
Soak black gram (urad dal) in water for about an hour and rinse well. Then drain the water and grind urad dal, till it turns into a thick paste.

Do not add too much water, just sprinkle a little bit water to achieve a balanced consistency of the batter. But, make sure that it's half grind.

Now, add cumin seeds, peppercorns, ginger, garlic, salt, asafoetida (hing) and then continue grinding. Traditionally, mortar and pestle were used to grind the paste.

If you are fond of spicy flavours, then add some finely chopped green chillies to make this dish more delightful.

Take a bowl and transfer the paste to a bowl. Add chopped onions along with curry leaves in the batter, and mix well. Then take a deep fry pan, add some oil and heat it on medium flame.

To make the vadas, add a few drops of oil in your palm and extract the batter and make a small hole in it using a finger, right at the centre of the vada. Then, carefully drop the vada in the hot oil to fry.

Increase the flame and fry well, till the vada turns golden brown. Put the vadas on a paper towel or tissue paper, this will remove the excess oil from the vadas.

Garnish it with some fried green chillies and curry leaves. It tastes best when served hot with the best of some coconut chutney and sambhar.
---
Disclaimer: All details published and represented above is part of the submissions by the author. aircooks does not take any responsibility for the information published and the correctness of the same. The views expressed in the content belong to the content creators and are not the organisations, its affiliates, or its employees. The author and aircooks disclaim liability for any damage, mishap, or injury that may occur from engaging in any activities or ideas from this website. Please write to privacy@aircooks.com for any further discussions.