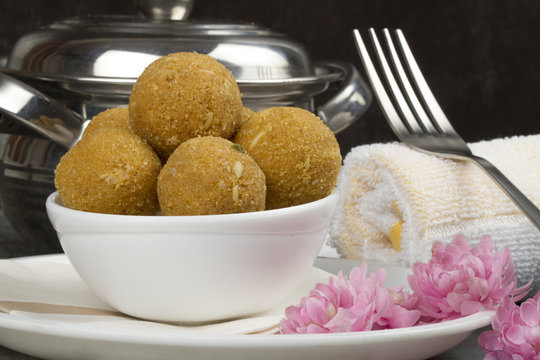 Cook: 40 mins
Serves: 4- 5 Persons
Ingredients
For Churma Ladoo
2 cups Whole Wheat Flour

1 cup Ghee

2 cups Jaggery , shredded

Milk , as required

Ghee , for frying
For Flavour and Garnishing
2 teaspoons Cardamom Powder (Elaichi)

1 teaspoon Nutmeg powder

1/2 cup Poppy seeds
Directions
To begin making the Churma , in a large bowl, combine the whole wheat flour and 1/2 cup of the melted ghee and mix well until you get a bread crumb texture. Add a little milk at a time and knead to make a stiff dough.

Knead the mixture by hand for about 5 minutes to make firm dough. Use the palm of your hands and roll 2 inch diameter size balls from the dough. The balls should be firm such that if you drop them, they should not break or crumble.

Preheat the ghee in a kadai on medium heat making sure the ghee does not get into a smoking point. Turn the heat to low and add two balls at a time into the hot ghee and fry these balls until they turn golden brown in color.

Don't get tempted to turn the heat too high to fasten the process; it takes time for the balls to get cooked from inside as well.

Allow the balls to turn brown gradually. The test is done by breaking a fried ball into half and if you notice it is creamy and not browned then fry the rest of the balls for a longer period of time; hence maintaining low heat during the frying process is absolutely a must.

Once you have finished frying all the balls allow them to cool completely. Once cool, crush them in a food processor to form a coarse powder like bread crumbs. Add the cardamom powder and nutmeg powder to the mixture and combine well.

In a small pan combine the jaggery and all other ingredients and also add 1/2 cup of melted ghee. Now form ladoo in your palm as per desired size.

Place the poppy seeds on a platter and roll the churma ladoos on the poppy seeds to coat them evenly.(poppy seeds can be little roasted on the pan)

Allow the ladoos to set for an hour before serving. You can store the Churma Ladoos in airtight canisters for a couple of weeks in the refrigerator.
---
Disclaimer: All details published and represented above is part of the submissions by the author. aircooks does not take any responsibility for the information published and the correctness of the same. The views expressed in the content belong to the content creators and are not the organisations, its affiliates, or its employees. The author and aircooks disclaim liability for any damage, mishap, or injury that may occur from engaging in any activities or ideas from this website. Please write to privacy@aircooks.com for any further discussions.