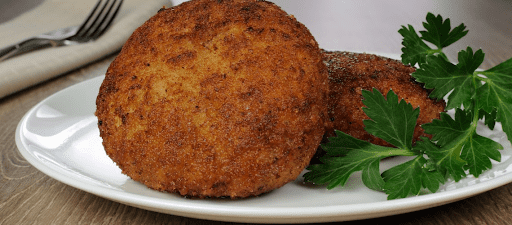 Cook: 10 mins
Serves: 4 Persons
Ingredients
Potato Cutlet

2 green chilli

1/2 teaspoon red chilli powder

garam masala powder as required

refined oil as required

3 bread

2 tablespoon coriander leaves

1/2 teaspoon chaat masala

salt as requied
Directions For Making Potato Cutlet
Boil potatoes, peel and mash them in a bowl. Chop green chilli and add them to the bowl along with chopped coriander leaves, red chilli powder, chaat masala and garam masala.

Sprinkle water on bread slices and mash them. Add the bread into the potato mixture and mix well.

Make small cutlets out of the mixture- round, oval or flat. Heat oil in a kadhai and when it is hot, deep fry the cutlets. Fry them until the cutlets are golden brown.

Transfer the cutlets on a plate lined with a paper towel to absorb extra oil. You can also shallow fry in less oil or air fry them to make a healthier version.

Delicious potato cutlets are ready to be served with mint chutney, ketchup or tamarind chutney.
---
Disclaimer: All details published and represented above is part of the submissions by the author. aircooks does not take any responsibility for the information published and the correctness of the same. The views expressed in the content belong to the content creators and are not the organisations, its affiliates, or its employees. The author and aircooks disclaim liability for any damage, mishap, or injury that may occur from engaging in any activities or ideas from this website. Please write to privacy@aircooks.com for any further discussions.