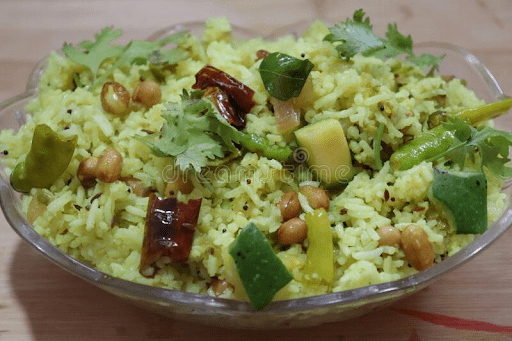 Cook: 20 mins
Serves: 4 Persons
Ingredients
2 tablespoons vegetable oil

1 teaspoon mustard seeds

1 teaspoon split and husked black gram (white urad dal)

1 teaspoon Bengal gram (chana dal)

10-12 curry leaves

2-3 whole dry red chilies

¼ teaspoon asafetida (hing)

1 cup peeled and grated green mangoes

2 teaspoons chopped green chilies

1 teaspoon finely chopped ginger

2 cups cooked and cooled white rice

½ teaspoon turmeric powder

¼ cup roasted peanuts

½ teaspoon salt (or to taste)

2 tablespoons chopped cilantro (coriander)
Directions For Making Green Mango Rice
Heat vegetable oil in a pan over medium-high heat.

Once the oil is hot, add mustard seeds, white urad dal, chana dal, curry leaves, dry red chilies, and asafetida (hing), and fry until the dal turns a little brown (1-2 minutes). Stir frequently while frying.

Add green mangoes, green chilies, and ginger, and cook for 2-3 minutes, stirring frequently.

Add cooked rice, turmeric powder, peanuts, and salt, and mix well.

Reduce the heat to low and cook for 2-3 minutes.

Check for salt and add more if needed.

Finally, add cilantro and mix well. Serve hot!
---
Disclaimer: All details published and represented above is part of the submissions by the author. aircooks does not take any responsibility for the information published and the correctness of the same. The views expressed in the content belong to the content creators and are not the organisations, its affiliates, or its employees. The author and aircooks disclaim liability for any damage, mishap, or injury that may occur from engaging in any activities or ideas from this website. Please write to privacy@aircooks.com for any further discussions.