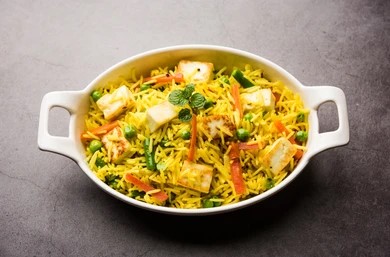 Cook: 20 mins
Serves: 2 Persons
Ingredients
1 cup Long Grain Basmati Rice

2 tablespoon Vegetable Oil

200 g Paneer (Cut into cubes)

2 tablespoon Ghee

1 teaspoon Cumin Seeds

2 Bay Leaf

3-4 Black Peppercorns

1 inch Cinnamon

2 Green Cardamom

1 Black Cardamom

2-3 Green Chillies

1 Black Cardamom

2-3 Green Chillies

2 teaspoon Ginger Garlic Paste

1 cup Onion (Thinly Sliced)

½ cup Carrot (Cubed)

½ cup Peas

Salt to taste

½ teaspoon Garam Masala Powder

2 cups Water

1 tablespoon Fresh Coriander (Chopped)

1 tablespoon Mint (Chopped)
Directions For Making Paneer Pulao
Wash the rice and soak in water for 30 minutes.

Heat oil in a pan.

Add paneer cubes and fry until browned from all the sides.

Remove them on a plate and keep aside.

Add ghee in the same pan.

Once the ghee is hot, add cumin seeds, bay leaf, black pepper, cinnamon, green cardamom and black cardamom and let them crackle for a few seconds.

Add green chillies and ginger garlic paste and fry for a few seconds.

Add onion and fry until they turn golden brown.

Now add carrot and peas and cook for minute

Add the fried paneer pieces, salt, garam masala powder, water, coriander and mint and mix everything gently.

Drain the rice and add it in the pan and stir gently.

Cover the lid of the pan and cook the pulao on low heat until rice is cooked and all the water is absorbed.

Remove the pan from heat and let it rest for 5 minutes.

Fluff the pulao using a fork.

Serve hot with a raita.
---
Disclaimer: All details published and represented above is part of the submissions by the author. aircooks does not take any responsibility for the information published and the correctness of the same. The views expressed in the content belong to the content creators and are not the organisations, its affiliates, or its employees. The author and aircooks disclaim liability for any damage, mishap, or injury that may occur from engaging in any activities or ideas from this website. Please write to privacy@aircooks.com for any further discussions.