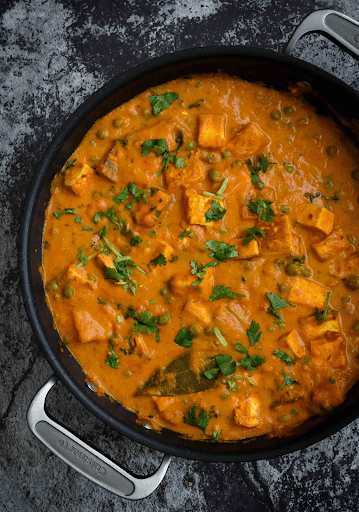 Cook: 25 mins
Serves: 4 Persons
Ingredients
For Matar Paneer
2 Cups Paneer (cubed, deep fried to a light brown)

2 cups Green peas (shelled)

3-4 Green chillies (slit a little)
For Gravy
2 cups Onions,

chopped1 tsp Garlic clove (ground with onions),

peeled1 tsp Ginger,

chopped1/2 cup Tomato,

grated1/4 cup Oil

2 tsp Cumin seeds

2 Bay leaves

1/2 tsp Turmeric

1 tbsp Salt

1/2 tsp Garam masala

1/2 tsp Red pepper,

powdered1 tbsp Coriander seeds,

powdered1 tbsp Coriander leaves (for garnish), chopped
Directions For Making Matar Paneer
Blend the onions, garlic and ginger to a paste.

Heat oil and add the cumin seeds and the bay leaves. Add onion paste and saute till brown and fat separates.

Add tomatoes, turmeric, salt, garam masala, red pepper and the coriander powder, and stir-fry till fat separates.

Add the peas, paneer and the green chillies and saute over high heat till glossy.

Add two cups water, bring to a boil and simmer for 5-10 minutes.

Serve hot, garnished with the coriander leaves. Omit the chillies if you so desire.
---
Disclaimer: All details published and represented above is part of the submissions by the author. aircooks does not take any responsibility for the information published and the correctness of the same. The views expressed in the content belong to the content creators and are not the organisations, its affiliates, or its employees. The author and aircooks disclaim liability for any damage, mishap, or injury that may occur from engaging in any activities or ideas from this website. Please write to privacy@aircooks.com for any further discussions.