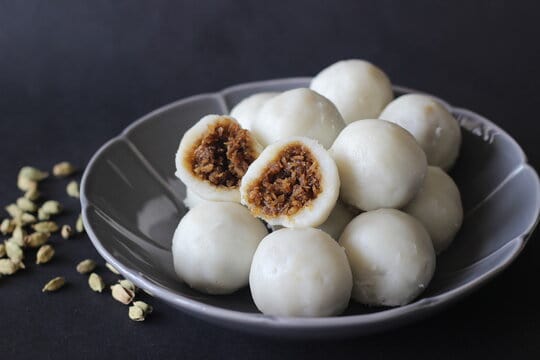 Cook: 15 mins
Serves: 3 Persons
Ingredients
125 gms Rice flour (approx 1 cup)

100 gms Jaggery

3/4 cup Grated Coconut

1/2 tsp Ghee (optional)

1-2 Crushed cardamom

1 cup Water (refer notes)

Salt
Directions For Making Kozhukatta
For Filling
Melt the jaggery with 1/4 cup of water and strain it.

Add the coconut to the filtered jaggery & mix well. Add ghee and cook till the liquid is dried up. Add crushed cardamom and remove it from the fire. Keep it aside.
For the Dough
Boil one cup of water with salt. Add the boiled water to the rice flour little by little and mix it with a wooden spatula/spoon.

Keep it aside for 5 minutes or till it is warm enough to handle.

Knead the dough and make it into a softball.

The consistency of the dough should be the same as that of Idiyappam dough and also the dough should not be sticky.

Make medium size balls out of the dough.

Take one ball at a time and place it in your palm.

Press it with the other hand and make it thin.

Start folding it inwards in such a way that you get a cup shape (please refer to the pic given below).

Place 1-2 tsp of the filling, cover it and roll it back into a ball.

Repeat the process with the rest of the dough and filling.

Steam the kozhukattas in appachembu/steamer for 9-10 minutes on medium flame.

Keep it covered for 1 more minute.

Serve warm.
---
Disclaimer: All details published and represented above is part of the submissions by the author. aircooks does not take any responsibility for the information published and the correctness of the same. The views expressed in the content belong to the content creators and are not the organisations, its affiliates, or its employees. The author and aircooks disclaim liability for any damage, mishap, or injury that may occur from engaging in any activities or ideas from this website. Please write to privacy@aircooks.com for any further discussions.