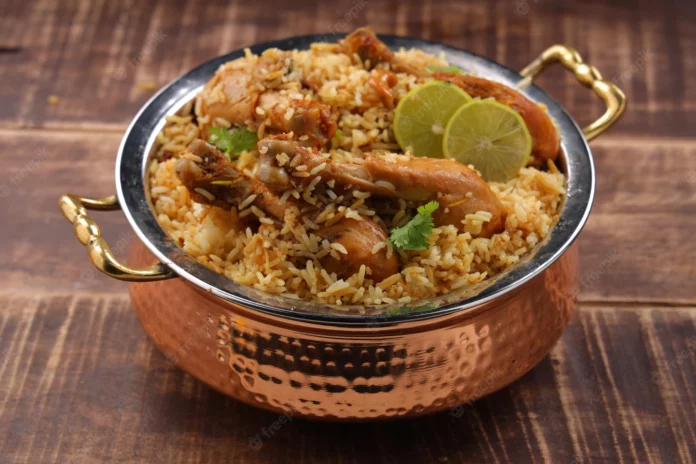 Cook: 40 mins
Serves: 4 Persons
Ingredients
1/2 kg Kaima rice

1/2 kg chicken

800 ml water

4 tbsp refined oil

2 tbsp ghee

1 tbsp lime juice

1 tbsp crushed ginger

1 tbsp crushed garlic

2 tsp coriander powder

1 tsp pepper powder

1/2 tsp turmeric powder

2.5 cups sliced onion

1/2 cup chopped tomato

15 cashew nuts, split

15 raisins

5 cardamoms

4 cloves

4 green chillies, slit

2 mint stems

2 coriander stems

1 onion, sliced, for frying

1-inch cinnamon stick

Salt to taste
FOR GARAM MASALA (TO GRIND)
5 cardamoms

4 cloves

1 1-inch cinnamon stick

1/2 piece mace

1 tsp fennel
Directions For Making Thalassery Biryani
Marinate chicken with a little turmeric, salt, lime juice for 30 minutes.

Soak rice in water for 30 minutes, and drain.

Heat 1 tbsp of oil and 1 tbsp of ghee in a pan. Toss in cinnamon, cardamom and cloves. Next add hot water, salt and bring to a boil.

Drop the drained rice into the water and cook by absorption method for 15-20 minutes. Keep aside.

In another pan, heat oil and fry cashew nuts along with raisins and keep aside. Also fry the single onion to golden brown and keep aside.

Add 1 tbsp ghee to the pan with oil and sauté the onions and green chillies for 7-8 minutes, until the onions turn golden brown.

Toss in ginger and garlic and sauté for 2 minutes.

Add the remaining turmeric powder, coriander powder and pepper powder and continue sautéing.

Add chopped tomato and cook the masala for 6-7 minutes.

Drop in the marinated chicken, coriander leaves, mint leaves and the ground garam masala. Cook chicken for 12-15 minutes in its own juice and masalas. Once done, keep aside.

Take a thick-bottomed vessel and layer precooked rice and chicken masala.

Top with fried cashew nuts and raisins.

Cover the vessel with a tight lid and keep on a hot plate for 15 minutes.

Serve hot with raita, pickle and pappadum.
---
Disclaimer: All details published and represented above is part of the submissions by the author. aircooks does not take any responsibility for the information published and the correctness of the same. The views expressed in the content belong to the content creators and are not the organisations, its affiliates, or its employees. The author and aircooks disclaim liability for any damage, mishap, or injury that may occur from engaging in any activities or ideas from this website. Please write to privacy@aircooks.com for any further discussions.